Posts for: January, 2015
By Litchfield Hills Family Dental
January 30, 2015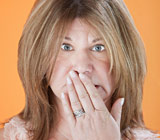 Q: I often seem to have noticeably bad breath — not just in the morning. How unusual is this problem?
A: Persistent bad breath, or halitosis, is a very common complaint that is thought to affect millions of people, including perhaps 25 to 50 percent of middle aged and older adults. It's the driving force behind the market for breath mints and mouth rinses, with an estimated value of $3 billion annually. It's also the third most frequent reason people give for seeing the dentist (after tooth decay and gum disease). So if you have bad breath, you're hardly alone.
Q: Can bad breath come from somewhere other than the mouth?
A: Most of the time, bad breath does originate in the mouth; its characteristic smell is often caused by volatile sulfur compounds (VSCs), which have a foul odor. However, it can also come from the nose, possibly as a result of a sinus infection or a foreign body. In some cases, pus from the tonsils can cause halitosis. There are also a few diseases which sometimes give your breath an unpleasant odor.
Q: What exactly causes the mouth to smell bad?
A: In a word: bacteria. Millions of these microorganisms (some of which are harmful, and some helpful) coat the lining of the mouth and the tongue. They thrive on tiny food particles, remnants of dead skin cells, and other material. When they aren't kept under control with good oral hygiene — or when they begin multiplying in inaccessible areas, like the back of the tongue or under the gums — they may start releasing the smells of decaying matter.
Other issues can also contribute to a malodorous mouth. These include personal habits (such as tobacco and alcohol use), consumption of strong-smelling foods (onions and cheese, for example), and medical conditions, like persistent dry mouth (xerostomia).
Q: What can I do about my bad breath?
A: Those breath mints are really just a cover-up. Your best bet is to come in to the dental office for an examination. We have several ways of finding out exactly what's causing your bad breath, and then treating it. Depending on what's best for your individual situation, we may offer oral hygiene instruction, a professional cleaning, or treatment for gum disease or tooth decay. Bad breath can be an embarrassing problem — but we can help you breathe easier.
By Litchfield Hills Family Dental
January 15, 2015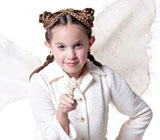 The Tooth Fairy has been easing the process of losing baby teeth for hundreds of years — at least 500 years according to one authority on the subject. Her name is Brady Reiter, and while she looks only age 11 in earth years, she is actually a 500-year-old Tooth Fairy; at least she plays one on DVD.
Brady is the star of Tooth Fairy 2, a new DVD comedy also starring Larry the Cable Guy as a novice Tooth Fairy doing penance for questioning the existence of the magical sprite who leaves payment under pillows for lost teeth.
In a charming interview with Dear Doctor magazine, Brady says it wasn't very difficult to play an ancient tooth fairy trapped in a child's body.
"I'm kind of more mature than an average 11-year-old because I have older brothers and sisters," Brady told Dear Doctor. "It was kind of just connecting with my inner 500-year-old. It was very fun to play a character like that!"
Brady also enjoyed working with Larry, who dons a pink tutu and fluffy wings for his role.
"In hair and makeup every morning, he'd be making all these jokes," she said. "He just cracked us up 100 percent of the time!"
But as much fun as Brady had on the set, her character, Nyx, is all business. And that's how Brady, who recently lost her last baby tooth, has always believed it should be.
"My whole life I thought the Tooth Fairy is just like Nyx," Brady said. "They know what to do, they come in, they're professionals, you don't see them and they never make a mistake and forget your tooth. Just like Santa Claus, tooth fairies are very professional."
Brady also told Dear Doctor that she is very excited to be helping the National Children's Oral Health Foundation fight childhood tooth decay as spokesfairy for America's ToothFairy Kids Club. The club offers kids personalized letters from the Tooth Fairy along with lots of encouraging oral health tips and fun activities.
If you would like to enroll your child in the club — it's free! — please visit www.AmericasToothFairyKids.org. And to make sure your child's teeth and your own are decay-free and as healthy as possible, please contact us to schedule your next appointment.