Posts for: April, 2015
By Litchfield Hills Family Dental
April 25, 2015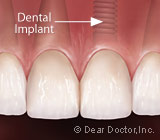 If you have missing teeth, dental implants are the state-of-the-art tooth replacement system. They act as substitutes for natural tooth roots, stabilizing the bone with which they fuse and become integrated with. This protects the remaining bone and prevents its further loss, the natural occurrence after the natural teeth are lost. Done correctly, implants can offer a long-term solution to the problem of missing teeth.
Key factors assuring dental implant success are having an experienced dental team consisting of:
A surgeon (periodontist or oral surgeon, or dentist trained in surgical techniques to place the implants)
A dental technician who will design the crowns (tooth portion of the implant)
A restorative dentist to place the crowns
The whole team is necessary to plan the process as well as carry out their individual roles. They will ensure that there is enough bone and that it is in the right place prior to treatment to allow for proper implant position, and that the implant/s are correctly placed, which is necessary to allow for natural aesthetics and proper function.
Replacing missing teeth is imperative to maintaining normal oral health and function. Dental implants will help support the entire structure of the face. If back teeth are lost, the vertical height of the lower face and mouth can begin to collapse, negatively impacting biting function and causing creasing and cracking of the lips and facial skin, resulting in a prematurely aged look.
Implants differ from bridgework in several ways, making them the most favorable option for tooth replacement in many cases. For starters, they do not affect adjacent teeth, nor do they decay like teeth, and they are less susceptible to gum disease. In the long-term, implants are a more cost-effective solution based on the fact that once they are placed, their life expectancy is longer than bridgework.
If you have missing teeth that have negatively affected your appearance, self-confidence, and ability to chew, call us today to talk about the possibility of replacing them with dental implants. To learn more about the use and capabilities of dental implants, read the Dear Doctor magazine article "Dental Implants: Evaluating Your Options For Replacing Missing Teeth."
By Litchfield Hills Family Dental
April 10, 2015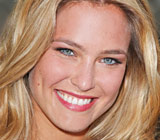 Let's say you happen to be sitting on a plane next to supermodel Bar Refaeli, who was recently voted #1 on Maxim magazine's Hot 100 list. You're a little nervous, but you want to make a good impression. What's the first thing she's going to look at? Your expensive suit? Your sculpted torso? How about — your smile!
"Teeth are the first thing I look at," explained the glamorous cover girl in a Maxim interview. "A nice smile with beautiful teeth is the most attractive thing."
We wholeheartedly agree. But, of course, not everyone is lucky enough to be born with a perfect set of teeth. What to do then?
"Let's just say that with today's orthodontists, I don't understand why people wouldn't fix them," Refaeli stated. Need we say more?
The Israeli supermodel, who has appeared in several Sports Illustrated swimsuit issues, knows what she's talking about. Refaeli started modeling as a young child, but had to put her career on hold for a few years while she got braces. When they came off, at age 11, she began her steady climb to the top of the modeling business.
Plenty of aspiring actors and models — as well as regular folks — get braces as children. But if you're serious about improving your smile, it's never too late to have orthodontic treatment. For adults, there are many options available in addition to the standard metal appliances.
Colorless ceramic braces offer a less noticeable way to correct misaligned teeth. Made of high-tech materials that resist staining, their translucent appearance blends so well with the look of your natural teeth that it can be hard to tell you're wearing them.
Clear aligners are an alternative to braces that are worn 20-22 hours per day. They consist of a series of precision-made, transparent "trays" that gradually straighten your teeth over a period of time. Best of all, you can remove them for special occasions — like meeting a supermodel.
Which type of orthodontic treatment is best for you? Why not come in for a consultation and find out! Working together, we can evaluate your situation and develop an effective, individualized treatment plan that fits your lifestyle.
If you have questions about orthodontic treatment, please contact us or schedule an appointment for a consultation. You can learn more in the Dear Doctor magazine article "Orthodontics For The Older Adult."